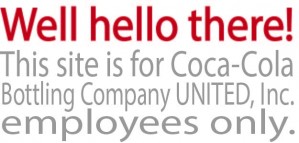 If you are not a Coca-Cola UNITED employee and have inadvertently arrived here, you may click "Home"  to find out more about who we are.  For example … the "What's happening…" gallery of events and promotions, Coca-Cola UNITED's core values and franchise territories, Ask Coca-Cola anything link, Nutritional Facts about any product we serve, and so much more!
So, click  "Home" and explore great things about Coca-Cola!
Sign-In to your Coca-Cola UNITED Employee Resources site!
"Username":  

Enter your ccbcu.com email address.

"Password":

 ONLY use the last five digits of your Social Security number including any zeros within the last 5 digits.  Example:  01234 or 12340
If you are not able to successfully sign in, on this page, to Employee Resources site, let us know. Please contact your Local Human Resources Representative.
ATTENTION:  CONA sign-on issues must be sent from your ccbcu.com email address.  
1) Copy and paste the email address ccbcuITServiceDesk@ccbcu.com  into a ccbcu.com email, and, 2) in the subject line of the email, type CONA log in issues